News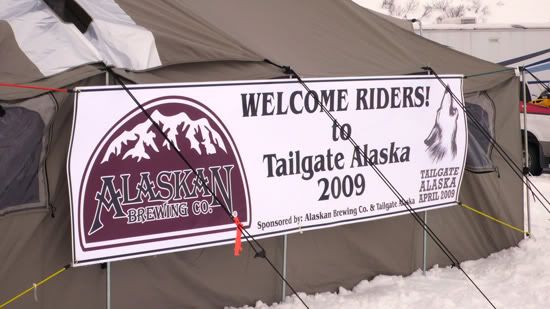 Tailgate Alaska was an experience I won't forget. From the get go, things seemed a little dicey. Mt. Redoubt had already messed with a bunch of travel arrangements before we arrived - followed by five days of mediocre weather - blue patches at best, for the better part of our first week.
The BBQ proved to be a popular use of the down times - with burgers, brats and dogs going around the camp most afternoon long as Loveland, directly above, would drift in and out of sight behind storm clouds. In the morning, Aaron would prepare breakfast on he woodstove - pancakes, bacon, eggs, potatos and more. Good eats the entire trip.

Usually, later in the afternoon, the sky would crack open, revealing the white velvet cauldron we were smack dab in the middle of. Usually, around 4pm (at least on the snow days) we would get our boots, beacons and harness' on in anticipation of an evening session.


Seven P.M. sled missions were not uncommon and the ease of access made the trip to the top a scant few minutes from 'boot 'em up.' A quick ride up the pipeline and you could be on top of a 4000+' run. The evening light surreal, reflecting in every direction, deep shadows cut across the jagged terrain.
And the mountains delivered powder, run after run, top to bottom. The higher up you go the lighter and more blower the snow conditions.

When the skys would go blue, it was time to check things out from above. Riding in a heli gives unlimited views in all directions. At first, there is so much to see that it is difficult to focus on any one thing. The more time you are in the ship, the better use you make of your time peeping the runs that surround the ship.
The natural terrain, both steep and otherwise is amazing. Looking out, from frosted window of a helicopter, the terrain unrolls in every direction, each peak the size of North America's major resorts, a 4000' run of unlimited banks, lips, berms, cliffs, steeps and powder.
Riding really is different in Alaska - the terrain that surrounds Valdez is arger than all of the resorts in North America combined. Watching riders throw down powder lines in front of our camp was really something to watch.


With a nice view of Goodwills, the Berlin Wall and Python from the Tailgate deck, onlookers had front row seats to world class riding.

Not everything worked out as planned. An unfortunate mishap on the pass with some black ice, had Walshy and Nick Hunt selling their sleds CHEAP.

And Beav had an unfortunate run in with his tri-pods oil head. Luckily, our crew which included a number of backcountry first responders had Beav patched up in no time.

But the blue skys and deep, fresh pow more than made up for it...