King of the Hill 2010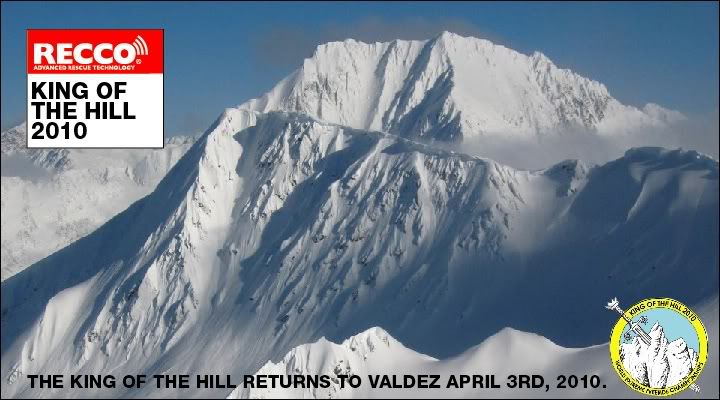 Course and Venue Description
Brobowl
1500-2100 vertical ft.
4000 ft. long ridge
35-55 degree slope
Northeast facing slope
This 4000 ft. ridge is littered with chutes, corniced ridges, pow bowls, cliffs of all sizes and plenty of steep technical lines. Sluff management and big mountain skills will be tested.
Skatepark
3500-4000 vertical ft.
7000 ft plus long ridge
30-50 degree slope
Northeast facing slope
Skatepark is a mountain that has everything a snow rider would want. It has the most amazing natural halfpipes, quarterpipes, booters and kickers. There are plenty of open pow bowls, steep face riding, chutes and cliff sections.
The event will consist of two judged runs down Brobowl then one judged run down Skatepark.
more below...
Entry package
King of the Hill will be a one day competition, held during the Tailgate Alaska World Freeride Festival.
Competitors will get 2 judged runs down Brobowl and 1 judged run down Skatepark.
$500 entry fee
This includes
Opening and closing ceremonies
Access to all Tailgate Alaska events
Transportation from Valdez to Thompson pass
Transportation to and from contest venues
Event sponsor packages
Prize money if eligible
The chance to be called King/Queen of the Hill